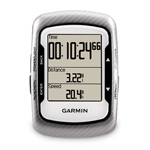 Yesterday: Edge 500 with current firmware:
Hit start
Ride 195 miles (Mt Tam Double); 8th finisher
Severely depleted, didn't think to hit stop, or anything other than checking in and then recovering.
2 hours later, notice Edge is on, so I shut it off.
Hooked up with car pool buddy, I drive home.
Go to upload ride to Strava, but no data has been stored.
User error? Maybe. But obviously at the end of challenging almost-200 mile course the synapses aren't going to be firing with razor-like sharpness.
User interface design 101: Never, ever delete or otherwise discard data which has been recorded without warning the user. Here's what I propose, just in case Garmin engineers are reading this (or
my post
on Garmin forums):
Create a Trash directory under Activities
When data is about to be discarded, dump it into a FIT file in the Trash folder, warning the user
When a FIT file in Trash becomes a week old, check with the user if he wants to clean it up.
Needless to say, with my recently acquired
Strava addiction
, I was not pleased to lose data from a 12+ hour ride with 14.5 kft of climbing.
The Edge 500 has wonderful features: an enormous improvement on the Saris Cervo ("little yellow computer"). For example, it was a rare long ride where at some point the Cervo wouldn't shut off and I'd forget to turn it back on before starting again, losing data. And the configurable Edge 500 display is fantastic (although I'd like to see the option for more than three page configurations: so much data...). And
Strava
is a real paradigm shift in cycling, something the GPS enables.
But prior to updating the firmware to version 2.40 I had the unit freeze up with me and I lose what may have been my best ride (avg power) for the time taken to climb Camino Alto in Marin, and then I lost the entire Mt Tam double.
They're still working out the kinks. I'm sure these weaknesses will be addressed in coming firmware updates. It's still frustrating, however.