Once again, tomorrow is election day, and with a low turn-out expected (30% or so), every vote is even more critical. Sample ballots and lots of info are
available from SmartVoter
.
Aaron Peskin ready to run
One of the more obscure, but still very important elections is for members of the Democratic Central Committee.
Aaron Peskin
, who termed out of the Board of Supervisors, is running. But I'll vote for the cows when they come home way before I'll vote for Aaron. Aaron seems to be racking up the endorsements in this race, but no self-respecting fan of bike racing, or for that matter of public events in general, should ever support him.
To
quote Wikipedia
:
Peskin was instrumental in canceling the San Francisco Grand Prix, a world-class bicycle race held in the years 2001 to 2005, because the race's backers owed the city money. Critics of Peskin alleged that the race was cancelled because it inconvenienced his North Beach constituents.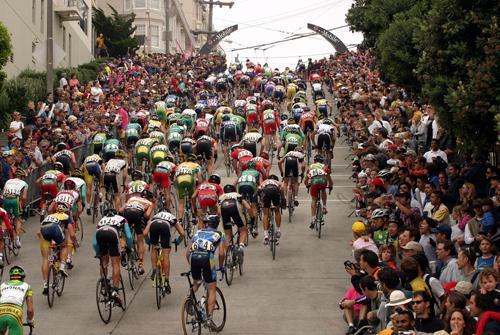 2004 San Francisco Grand Prix, on Fillmore Street
Absolute insanity! The San Francisco Grand Prix was a race which had chiseled out a unique position in the international professional bike racing calendar. The scene at the Taylor and Fillmore street climbs was rivaled only by the Mur de Huy in Fleche Wallone, and riders who did both said the San Francisco climbs were steeper. The scene of Charles Dionne
launching his winning attack in 2004
is etched forever in my mind. Epic stuff.
Public events like this shouldn't be placed under the burden of covering the City's inflated police rates. Why? Because the role of the police is to protect the people. If a disproportionate number of these people happen to be attracted to a particular bike race, then it makes sense a disproportionate number of police should be at that race, as well.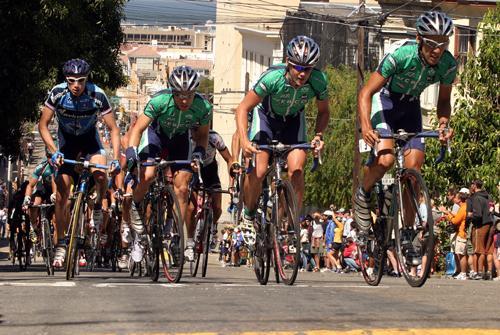 Another shot from Fillmore Street
Any well-functioning community has community events. Indeed, any rational community should be encouraging individuals to contribute to these events: they provide the vibrant character which differentiates cities from the sterile wasteland of that failed experiment called suburbia.
The San Francisco Grand Prix was like an international billboard for our happy community, especially in Europe. It takes a supernatural degree of myopia to not have realized that, or else super-natural cynicism to ignore it.
No, way, Aaron.