In the Vuelta this year, Joaquin Rodriguez has been untouchable. Not only is he able to outclimb Chris Froome, arguably the dominant climber of the Tour de France, but he's able to respond to every one of Alberto Contador's attacks. Sure, Contador is a convicted doper, and without the good stuff he's simply not going to be at the same level he was before, but it's almost unprecedented in cycling history before the EPO era that riders were able to so dominate stage races they they never once lost time to a rival. Not only is Rodriguez able to mark his rivals, but he's able to finish these climbs with absolutely ferocious attacks which put 5 seconds or more on everyone else (excepting perhaps Valverde when he's still with him) within the last 500 meters. I've never before seen a rider who was able to do that, nor am I aware of any rider in cycling history who could combine such searing intensity with the ability to excel on extended climbs. And that he's attained this degree of dominance only at age 33, having begin his career in 2000 with ONCE, is even more remarkable.
Indeed, in addition to the combination of intensity and endurance exhibited by Rodriguez is the "35 is the new 25" phenomenon. The most obvious example of this was Chris Horner and Levi Leipheimer, riding better than ever before into and through their mid-'30's. Then along comes Bradley Wiggins, going from never having won a pro time trial to becoming untouchable at 31-32. Joaquin Rodriguez, at 33, has been unleashing his ferocious attacks at the summits of 1st category climbs in the Vuelta, making everyone else, including Contador, look silly. There's a rational explanation for this: the biological passport, and endocrine thresholds are established with age-independent limits. You set the limits so a 21-year-old, his hormones running full gas, can pass, and you provide a lot of head-room for that masters-aged pro who needs to replenish what time has taken. I know, they say that the reduced racing schedules associated with increased specialization, at least for men (Merckx and Hinault basically raced all year long) results in less wear and tear. But if that were true then in other sports with less wear-and-tear in cycling we'd also see athletes peaking in their mid-'30's. It simply doesn't happen.
A third change in cycling is the German bodybuilder-road sprinter phenotype. First Andre Greipel, then Marcel Kittel, and now Degenkolb have all come to the scene within the past few years with bodies which looked more suited to a remake of Conan the Barbarian than to surviving 240 km road races.
Traditionally cycling road sprinters have been road racers first, sprinters second, which limited them to a relatively slight physique, although with the door open for some impressive leg definition. Here's the amazing legs of Sean Kelly, probably the top sprinter of the 1980's:
Sean Kelly's legs (VeloRambling.org)
Kelly's supremacy was followed by those of Djamolidine Abdoujaparov, Mario Cipollini, Eric Zabel, Robbie McEwen, and now Mark Cavendish as the best sprinters in the stage race game. Each of these riders had (or has) impressive leg muscles for sure, but still relatively light. It's hard to move a lot of muscle mass in circles 70-120 times per minute, 60 minutes an hour, 4-6 hours per day.
Abdu, whose career ended with a suspension for steroid use, had particularly impressive legs: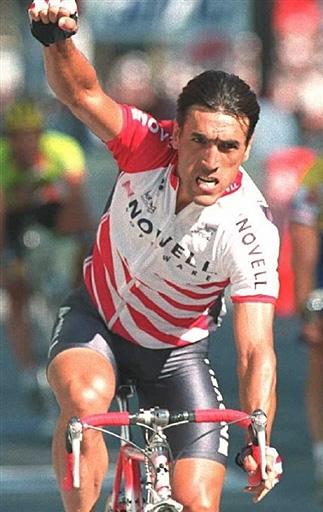 But then these German sprinters entered the scene, looking more like track specialists than roadies. Greipel puts his predecessors to shame:


Kittel was next:
Then John, who while not to the standards of Gripel and Kittel, still has tree-trunk like legs with which he's totally dominated stages in this Vuelta:


I am reminded of baseball in the early 1990's when the body shape changed. Players to that point had been relatively lean, natural for a sport where running faster is correlated with success. The power hitters tended to be bigger and slower, but they were the exception. Then that all changed. Rosters became dominated by guys who'd adopted a markedly spherical shape, with necks as thick as my waist. These guys looked as if they should be hardly able to move, yet they were still obviously able to run down balls in the field, to turn a bat quick enough to hit a 160 kph pitch. The argument was made that players had discovered the weight room. Excuse me? Something as simple as doing what every high school athlete does, lift weights, doubles a player's home run output and top-level pro players took 100 years to discover this? Of course it was later revealed steroid use became rampant during this era. Baseball claims to have cleaned itself up but the body shape remains. That alone is proof enough for me.
Similarly with cycling. When things change in profound ways it's a good sign something's up. The story will come out eventually; it always does.