It's been commonly recognized that European cycling was deeply contaminated by oxygen-vector doping from approximately 1993 until the CERA test became available in 2008 and the biological passport screening started in 2009. However, many considered the United States domestic scene to be clean. After all, there was less money to be made in the sport and therefore the investment of oxygen boosters wasn't worth it, people argued.
That naive view has long since been disproven. But the issue came up again as VeloNews just published an interview with Will Frischkorn, who's been considered a member of the "lost generation" of talented riders unable to make the jump to Europe because of an unwillingness to embrace the dark side. A key quote:
But Frischkorn suggests that there were also several other American riders who decided to take a different direction. He cites some well-known riders who were utilizing EPO programs during the Saturn years (he joined Saturn in 2003), and who had "unnatural" performance breakthroughs. "People knew it — that EPO could really change their performance." Frischkorn tells of one older rider — still active in the professional peloton — who essentially explained to him the ropes of EPO usage; where to buy it, how to store it, and how to use it. "It wasn't anything really dark or evil, and nobody was pressuring anyone. It was more just like your big brother showing you how to do something — just kind of trying to take care of you."
An important US stage race in those years, during a time of scarcity in US stage races (post-Coors Classic, pre Tour of California, Tour of Utah, Tour of Colorado), was Redlands. The 2003 Redlands Classic results are available on Cyclingnews. Here's top 10 overall:
General classification after stage 5
 
1 Chris Horner (USA) Saturn Cycling Team            14.12.05
2 Nathan O'Neill (Aus) Saturn Cycling Team              0.01
3 Tom Danielson (USA) Saturn Cycling Team               0.59
4 Jonathan Vaughters (USA) Prime Alliance              13.25
5 Danny Pate (USA) Prime Alliance                      14.24
6 Glen Mitchell (NZl) Navigators Cycling               14.33
7 John Lieswyn (USA) 7Up/Maxxis                        14.56
8 Matt Decanio (USA) Prime Alliance                    15.36
9 Jacob Erker (Can) Schroeder Iron Pro Cycling         15.42
10 Ben Brooks (Aus) Jelly Belly/Carlsbad Clothing      15.48
Let's see... #2 was involved of EPO trafficking, #3 has admitted to doping, #1 was claimed to have been a redacted name in the USAC "reasoned decision" on Lance Armstrong but denied it. #4 had returned to the US to race clean, #5 is considered clean, #7 has always been outspoken against doping and has never been caught in any scandles, #8 was an outspoken "doper's suck" activist and was almost surely clean.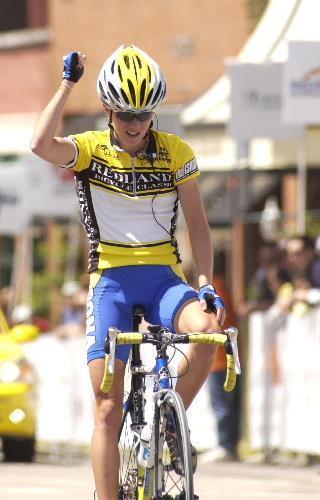 Genevieve Jeanson won the women's GC by 12:52. She was later found to be using EPO. CyclingNews photo.
I think to fair approximation here, given that Vaughters had a world-class cardiovascular system and almost certainly could have competed for the overall with supplementation, the "doping advantage" in this race was around 13-14 minutes of 14 hours -- that's around 14/852 minutes, or 2% speed. The race was truly a "peloton of two speeds". There was the top 3 (Horner may have been able to go along for the ride; I won't say one way or another), and the remaining 7 of the top 10.
2% speed is around 6% power in the wind resistance limit, which is what Science of Sport has claimed to be the approximate benefit of EPO. Of course this analysis is silly: Redlands is mass-start and not a time trial, and the power isn't all wind resistance; climbing accounts for a lot of time difference. But the numbers are at least in the right ballpark.